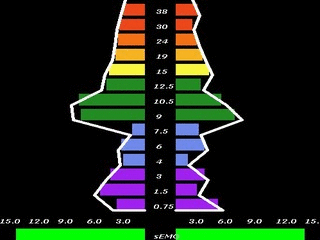 The Vilistus Mind Mirror 6
Practitioner Kit
Self-Training Kit
The Vilistus Mind Mirror 6 is a state-of-the-art neurofeedback/biofeedback device that enables professionals and self-trainers to monitor and thus attain the brainwave patterns of deep, profound meditation, creative flow, peak performance, and higher awareness for body-mind coherence, self-actualization, and spiritual growth.
Compact, affordable, and easy to use, the Mind Mirror 6 is a global leader in personal training and mind research. This unique spectrum analyzer, a research-grade electroencephalograph (EEG), is the only instrument that shows both hemispheres of the brain and the interrelationships of the frequencies of beta, alpha, theta, delta, and low gamma, which cluster together into categories to form patterns that define states of consciousness.
The composite picture of consciousness provided by the Mind Mirror enables individuals and professionals to train three ideal brainwave patterns (meditation, the awakened mind, and the evolved mind), all of which tangibly increase the power and potential of the mind, body, heart, and spirit.
For this reason, the Mind Mirror is the worldwide instrument of choice for individual self-trainers, awakened mind practitioners, neurofeedback therapists, psychologists, and mind researchers often based at universities who are working with meditation, self-regulation, and the development of consciousness.
Operating on Bluetooth or USB connectivity, the Vilistus digital sampling unit is the most affordable (real) EEG device on the market today.
Designed for Versatility
Practitioner Kit: Professional awakened mind trainers and consciousness researchers use the Mind Mirror EEG in conjunction with the Galvanic Skin Response and Blood Volume Pulse physiology meters for self-training and to train others. This kit offers a wide array of data windows and data analysis tools. In addition, Vilistus Pro software built into the Mind Mirror enables neurofeedback therapists to train SMR, alpha-theta, theta-beta, and much more.
Self-Training Kit: Self-trainers use built-in musical cues and a digital rewards counter to train the meditation, awakened mind, and evolved mind brainwave patterns. A wide array of data windows and data analysis tools allows for closer study of brainwave patterns and trends.
Click on the following links for detailed descriptions of the content and costs of these two bundled equipment kits.
Practitioner Kit

Self-Training Kit






State-of-the-Art Capabilities

The foundation of the Vilistus Mind Mirror is its trademarked Cade-Blundell pass band filters: a series of frequency groupings designed to provide the greatest signal accuracy with the least amount of electrical noise.

The Mind Mirror 6 relies on the Cade-Blundell filters and specific placement of five electrodes to generate recognizable brainwave patterns that can be observed and trained.

This new instrument, featuring dual-channel EEG sensors integrated with physiology meters, allows the self-trainer and professional to monitor and record the activities of the mind and body through incomparable features, sophisticated user controls, and summary view screens for data analysis (see image above, right-hand side).



Customer Feedback

"This newly updated version of the Mind Mirror is so easy to use. The MM6 even preserves the EEG parameters
from the original research by Max Cade and Anna Wise used to explore the minds of healers and professionals
who demonstrated peak performance in their areas of expertise.

Through a combination of neurofeedback and mindfulness techniques created by Anna Wise, many of my clients
suffering from PTSD and attachment disorders can now use biofeedback from the MM6 to develop their mind and
brain in support of optimal mental and emotional function.

But you don't have to have serious emotional problems to benefit from the upgraded research-quality Mind Mirror.
I can't wait to run small groups for anyone who might want to enrich their life, improve performance, or enhance
creativity in their chosen area through an exploration of their own Awakened Mind."
-- Robin Bernhard, LCSW, MEd, Virginia Neurofeedback Attachment and Trauma Center




Classic and new views with an optional gamma screen. The classic Mind Mirror pattern, with 14 frequency bars ranging from 0.5-44 Hz, may be viewed as horizontal bands, an outline pattern, or an outline pattern with a fill. The screen display comes in two preset color schemes (dark blue bars on a black background, shown above, and yellow bars on a light blue background). The user may also customize the colors of the frequency bars and background with a wide variety of color choices. Shown below is a preset multicolored display with a white outline used for training the awakened mind pattern.








A keystroke command (or right-click menu) enables the user to see two additional bars of low gamma (44-54 and 54-64 Hz). At the bottom of the Mind Mirror display is a green sEMG bar that measures muscle tension in the head, neck, and shoulders.

The screen capture below illustrates several of many other ways to view Mind Mirror data. Note the 2-45 Hz raw trace across the top, the vertical bars at bottom left, and the five yellow bar-graph windows: theta, alpha, SMR, beta and gamma.







Customer Feedback

"One of the challenges of abstract painting and figure drawing is knowing when to stop, keep going
or start all over. But now, using the new Mind Mirror 6 makes it really easy to hook myself up to check
my brainwave patterns before, sometimes during, and after I finish a painting or drawing to see if my
patterns are in an optimum creative state (awakened or evolved pattern). I've done enough now to know
when I'm "feeling" it: when to stop or just keep exploring other options.

This brainwave experiment only confirms my own intuition of the bliss state. I know I can teach it to
others and plan to offer creative brainwave feedback workshops (concept, design, writing, photography,
drawing, video, programming, business planning, etc.) with continuous hookup and monitoring for four
people at a time. Smaller equipment now makes it a lot easier to travel with. Thanks!"
--George Pierson, artist, awakened mind practitioner and founder of Creative Mindflow



EEG combined with physiology meters. The Vilistus DSU features four inputs, or ports. A dual-channel EEG sensor is plugged into one of the four inputs, leaving three ports for additional EEG sensors or physiology meters. The use of physiology meters with the Mind Mirror is a highly significant stride in mind-body research. (Note: Only the Practitioner Kit includes these physiology meters.)

* The Mind Mirror's Galvanic Skin Response (GSR) meter is calibrated to the Electrical Skin Response (ESR) meter used by Max Cade to measure muscle tension as a physiological correlate of consciousness. Small electrodes taped to two fingertips measure relative changes in muscle tension and thus relaxation or arousal in two choices of data windows: skin conductance (uSiemens) or skin resistance (Ohms). The operator may also measure muscle tension in absolute values with a Lesh scale window. Because the Lesh scale correlates with EEG states, GSR may be used alone to loosely identify and attain higher brainwave states, without the use of EEG.

* The Blood Volume Pulse (BVP) meter, a light-sensitive electrode clipped to the fingertip or ear, tracks heart/pulse rate changes in real-time. Post-session summary view windows show pulse rate, heart rate variability, and stress index over the course of the session as a means of measuring the subject's depth of inner peace and calm. Used individually or together, the GSR and BVP provide new insights into brainwave patterns and enable users to regulate the body as well as the mind.

* The Breath/Body Temperature meter measures heat generation and thus relaxation/arousal levels.



Sophisticated user controls. The MM 6 features a number of new and highly useful operator controls for recording and in post-session summary view.

* Resizable data windows can fill the screen or be positioned anywhere on the computer monitor. An innovative signal check stoplight for each brain hemisphere continuously monitors signal quality, sEMG artifact, and ambient 60Hz noise.

* In addition to the Mind Mirror display, the user can monitor gamma, beta, alpha, theta and delta (or the more universal dominant frequency and 2-45Hz options) in raw trace time series windows.

* While recording and in summary view, both keystroke commands and a right-click menu provide quick access to self-training mode, auto-attenuation, gamma display, screen snapshot, other color schemes, and refresh rate controls. The default refresh rate, or display speed, is markedly slower than the classic Mind Mirror and makes patterns easier to visually track and interpret. The amplitude, or microvoltage, of the frequency bars can also be attenuated manually via the left and right arrow keys on the keyboard.

* Pressing the space bar pauses the screen while the data records without interruption. Pressing the space bar or Enter key also places vertical white lines that mark events on a timer bar seen in post-session review.

* Using the right-click menu of options or tapping the "m" key on the computer keyboard activates a summary Mean, or average, brainwave pattern for increments of 1, 2 and 5 minutes or the entire session.

* In replay, left and right arrow keys enable the operator to study brainwave patterns frame by frame. Changing the refresh rate to a higher speed in replay reveals patterns recorded but not previously seen at slower speeds.

* A slider bar enables the user to scroll through a recorded session and moves all screens backward and forward in time simultaneously.

* Summary display options on EEG, GSR and BVP screens include active and changeable data range scales, trend lines, and a black-on-white color display for ink-saving printing.

* Mind Mirror Summary provides a static Mean brainwave pattern over the course of the session and a statistical column chart showing how many times the meditation, awakened mind, and evolved mind brainwave patterns were attained.

* Clicking on a data line or event marker in a summary view window activates a second timer clock used to pinpoint the timing of notable measurements and use the slider bar to scroll to and investigate the related Mind Mirror pattern. When markers are set by the user or added to a summary window, pressing the "j" keystroke jumps to the brainwave pattern associated with markers. These innovative features enable the operator to discover and explore mind-body correlates as never before.


Customer Feedback

"Wonderful stuff! You folks have succeeded in generating a package which is a real gift to the field.
Thanks. I feel fortunate to have such a useful tool in my hands!!!"
-- Nick Goloff, retired engineer, business owner and advanced self-trainer










Self-training screens. One of the most attractive and far-reaching features of the Mind Mirror 6 is its self-training screens, which provide direct feedback for training the meditation, awakened mind, and evolved mind brainwave patterns. Shown above is a brainwave pattern ranging up to 64Hz, which includes two bands of gamma frequencies. The meditator is training the evolved mind pattern (the white outline) in the Mind Mirror window, which is flanked by spectrograms showing the array of frequencies being produced; just above are Gamma Amplitude summary windows with white vertical markers showing when gamma frequencies increased. At bottom right is a summary Mean, or average, brainwave pattern for the session; to the left is a statistical column chart of the number of times the meditation, awakened mind, and evolved mind patterns were attained during the session, no matter which pattern was selected for training.

Self-trainers simply hook up the electrodes, bring up the Mind Mirror screen, select the pattern to be trained and the challenge level, toggle a key to bring up the white outline around the brainwave pattern, and press Record. With eyes closed, the self-trainer in silent meditation hears audio cues consisting of music for the meditation and awakened mind patterns and a gong sound for the evolved mind pattern. The pattern outline provides visual feedback in eyes-open training.

After the session, the self-trainer assesses the session with a large array of post-session summary screens or with the Mind Mirror Summary that provides the statistical column chart totals and percentages for all three patterns and the Mean (average) brainwave pattern. These data analysis windows allow the self-trainer to relate subjective experiences (mind and body) to objective measurements (EEG, GSR and BVP) for insights that speed consciousness development.

Self-trainers new to meditation may wish to purchase professionally recorded and EEG-tested guided meditations led by Judith Pennington (visit EagleLife.com) and/or Anna Wise (visit AnnaWise.com). These meditation tracks help the new meditator reduce beta and generate the alpha-theta meditation and awakened mind patterns. Familiarization with the "felt state" of consciousness via visual or audio feedback facilitates brainwave regulation and the development of higher states of awareness.

New and seasoned meditators may wish to additionally purchase a Manual Trigger Button (or tap the Space Bar or Enter key) to place markers in post-session summary screens; the self-trainer can scroll to the marker in the summary screen (EEG, GSR or BVP) to determine the exact moment a state of consciousness was marked and then use the slider bar to scroll to the related brainwave pattern. The "j" keystroke can also be used to "jump" from marker to marker for quick view of the associated brainwave patterns.

Hemispheric symmetry can be trained with the Mind Mirror or Brain Mirror, a colorful dual-hemisphere display of individual frequency bars shown at top right in the screen capture below. Specific sites in the brain can be trained with neurofeedback electrode positioning, allowing for direct audio feedback consisting of tones that inhibit or reward brainwave production. Note the red pointers in the two alpha-theta neurofeedback screens below, where the vertical white lines indicate upper and lower thresholds.

Data windows used for neurofeedback training include gamma, beta, alpha, theta and delta amplitudes, SMR, alpha-theta (meditation) and theta-beta (peak performance). The Dominant Frequency filter, shown at bottom left, enables the meditator to easily identify in summary view the strongest amplitudes of brainwave frequencies produced during the session.

See the Self-Training Kit page for additional screenshots of data windows used in self-training.



Customer Feedback

"Sometime in college I began a trek toward finding out what really is going on in the world around me;
searching for what it really is and isn't and what life may or may not be about. Looking into research
in consciousness, I was naturally led toward working with the Vilistus Mind Mirror 6, a device enabling
the human race to gauge, landmark and further understand their conscious experience.

The MM6 is a powerful device in the progression of human consciousness and alongside this ever-
improving technology, I can only postulate on future endeavors that will trace back to the Vilistus Mind
Mirror."
-- Joshua Lewis, graduate student focused on EEG and music research







Group brainwave training capability. The Mind Mirror 6 accommodates group brainwave trainings with a new level of affordability and ease. In addition to the dual-channel sensor supplied with the Self-Training and Practitioner kits, the operator purchases three additional dual-channel sensors so that all four are plugged into the Vilistus DSU for simultaneous monitoring and recording. Each display can be adjusted as explained above. This is another major stride in Mind Mirror development, as only a few awakened mind practitioners with specialized equipment could conduct group trainings until now.








Warranty. The Mind Mirror 6 comes with generous warranties: a two-year fair use warranty on the DSU, one-year fair use warranty on sensors, and free lifetime Mind Mirror and Vilistus Pro software updates.


Manual. Judith Pennington, an awakened mind practitioner certified by Anna Wise and co-designer of the Mind Mirror 6, provides purchasers with a professionally written Mind Mirror 6 User Manual. This comprehensive, downloadable PDF document covers use and operation of the hardware and software.


Training. Located an hour west of New York City, Judith is currently the only person offering 4.5-day seminars on the use of the Vilistus equipment and how to read and understand the brainwave patterns measured by the Mind Mirror. Visit the Training page for more information and a schedule of seminars designed for self-trainers and EEG awakened mind practitioner trainers. If you do not see a listing for an upcoming training, contact Judith to set up dates that suit your convenience.


Support. Customer Service representative Judith Pennington places and tracks orders and works hands-on with customers via email, telephone, Skype and TeamViewer to ensure satisfaction and ready use of the Vilistus hardware and Mind Mirror software. Software engineer and Vilistus/Durham Systems co-owner Steve Clark provides free lifetime technical support via the same communication avenues. Steve Clark also offers online training in biofeedback and neurofeedback.


Optional Equipment. We recommend using only 1.5V lithium batteries or 1.2V lithium or NiMH rechargeable batteries, along with a digital voltmeter with which to check battery-charge levels before each session. Dedicated self-trainers should consider purchasing the optional Manual Trigger Button which places event markers in session recordings without creating body-movement artifact or beta waves caused by the externalization of attention. Click here to explore an array of related Vilistus products such as the Mind Slice, a free-standing wireless device that sits anywhere in the room and lights up in various colors to provide direct visual EEG feedback.



Previous Versions of the Mind Mirror

Due to its versatility and ease of use, many awakened mind practitioners still use the Mind Mirror III console invented by electronics engineer Neil Hancock. The Mind Mirror III is no longer being manufactured or repaired by Neil Hancock. However, Mind Mirror III units occasionally become available; contact Judith to inquire about these. Neil Hancock worked closely with Judith Pennington and Steve Clark to develop the Vilistus Mind Mirror 6 and has given its technical specifications his official stamp of approval.

The Mind Mirror 4 and its successor, the Mind Mirror 5, a medical-grade EEG manufactured by Thought Technology and also approved by Neil Hancock, is still available. Judith Pennington works with Thought Technology to update the Mind Mirror software and provides MM disks or downloads for the ProComp 2, 5 and 8. If you are a medical professional, check with your insurance company to determine whether you need to buy a medical-grade EEG in order to comply with coverage requirements. For more information on the Mind Mirror 5 or to purchase the Mind Mirror software disk that runs on the ProComp's BioGraph Infiniti software, please email Judith.